A common problem working in education is students 'Turning off' the wifi using built in buttons or switches on laptops resulting in numerous calls to IT regarding no network access.
In this article i'll explain how you can disable this button using a GPO.
For this example i will be disabling 'airplane mode' on HP 250 G6 Notebooks. However the same method should work for most laptop makes and models.
Before you continue, be sure to only test this on a test environment first rather than a full operational OU.
Step 1
First you should head to device manager on the laptop in question and look under 'Human Interface Devices'
You should see something in relation to the wireless switch, in this case its 'HP Wireless Button Driver'
Step 2
Right click the driver and chose 'uninstall' once complete the Airplane Mode button on the keyboard should no longer work. If this is the case continue to Step 3, if you can still turn off wifi using the button try this step with other devices which are in relation to the Wireless Card until you get the desired result.
Step 3
Simply uninstalling off the device will not work as it will keep coming back, to stop this you will need to note the Device HID, you can find this by clicking "scan for hardware changes" to bring the driver back, right-click the driver and select Details and drop down Hardware IDs. On this page you will be able to determine the device id.
i'm not 100% sure which one is the actual Device ID, i assume its 6001 with it being after Dev_ however i have used all of them to be sure.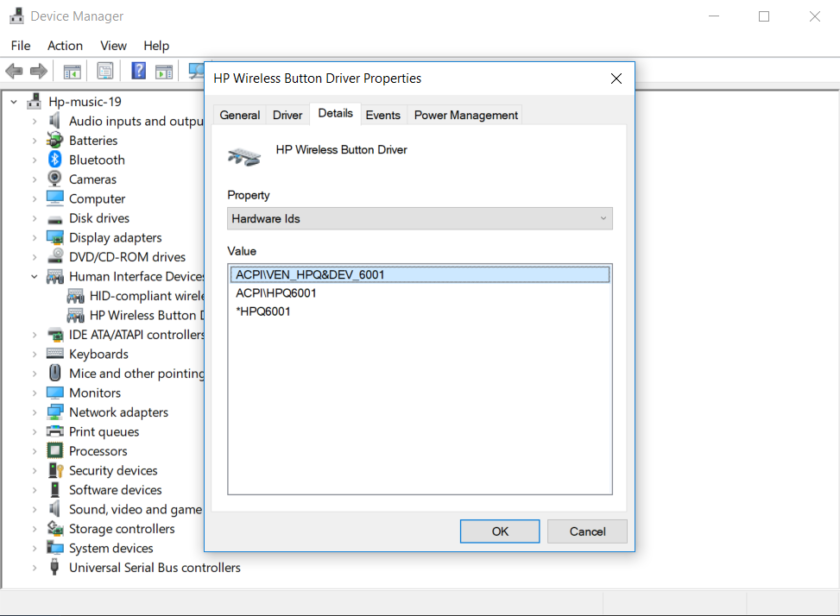 Step 4
Now you should create a new GPO and apply the following under Computer configuration > Admin Templates > System > Device Installation > Device Installation Restrictions
Prevent installation of devices using drivers that match these device IDs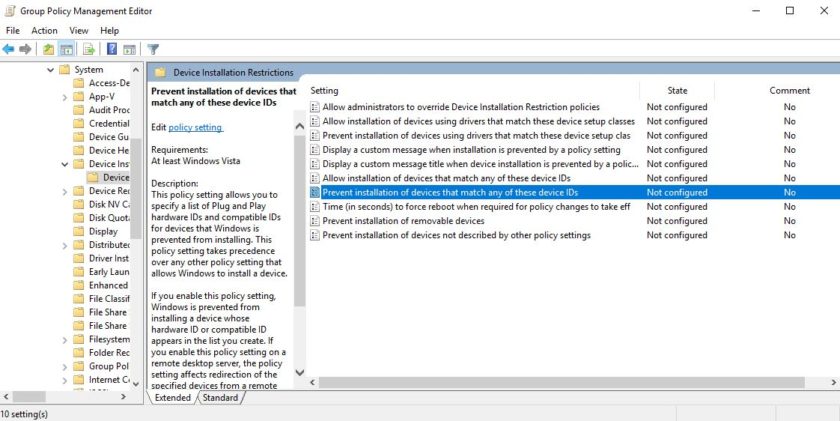 Click Enabled
And under 'Show' enter your device ID(s)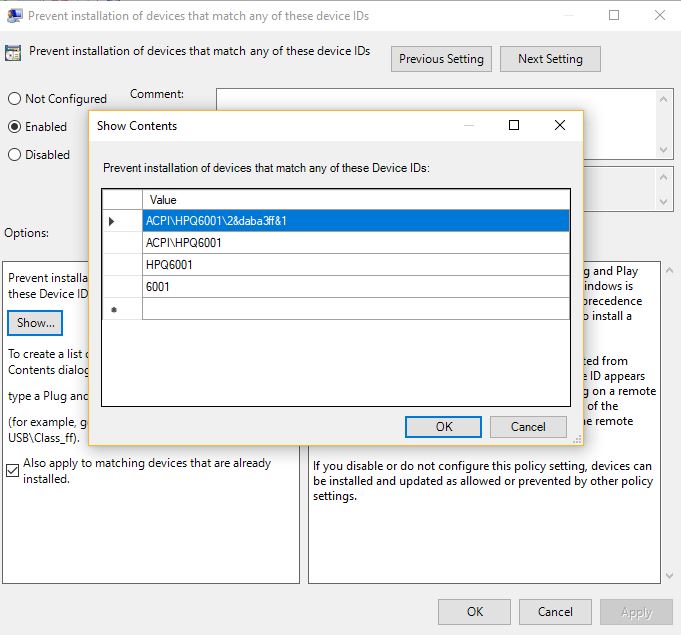 Ensure you tick 'Also apply to matching devices already installed'
Perform gpupdate on your target machine and the Airplane Mode Button should now be disabled